Forerunner 735XT
Be a better athlete today than you were yesterday with Forerunner® 735XT. This GPS running watch with multisport features includes wrist-based heart rate so you can run freer on race day. For advanced running dynamics and other detailed measurements, add the chest strap and train your heart out. It also has swim features, smart notifications, automatic uploads and compatibility with Connect IQ™.
$349.99
Send us a message
Description Item
Bring your performance up to speed with Forerunner® 645. This GPS running watch features Garmin Pay™ contactless payment solution, so you can leave your wallet at home. It also has wrist-based heart rate, advanced running dynamics and performance monitoring features to help you fine-tune your training. Connected features bring you smart notifications and LiveTrack, and you can customize your watch with free watch faces, apps and more from the Connect IQ™ store.
Estimated Battery Life: 7 Days (Watch Mode) 14 Hours (GPS Mode)
GPS Running Watch with Multisport Features and Wrist-based Heart Rate
Measures heart rate at the wrist¹ so you can run freer on race day
Provides advanced dynamics² for running, cycling and swimming7, including ground contact time balance, stride length, vertical ratio and more
Offers VO2 max estimate, lactate threshold³, race predictor and recovery advisor
Connected features4: smart notifications, automatic uploads to Garmin Connect™, live tracking and more
Customize with free watch faces, apps and more from our Connect IQ™ store
You Do It All, Now Your Watch Can Too
Be a better athlete today than you were yesterday with Forerunner 735XT. This GPS running watch with multisport features is for athletes who want dialed-in data for training and a lighter load on race day. A smaller form factor and comfortable band make 735XT the ideal watch to get you from workout through workday. Connected features4 like automatic uploads to Garmin Connect, our free online fitness community, let you share your stats and triumphs through social media.
Run, Sprint, Swim, Bike, Tri
Your routine is anything but routine. Forerunner 735XT lets you change things up with ease thanks to built-in activity profiles for running (indoor/outdoor), cycling (indoor/outdoor), swimming (pool/open water), cross-country skiing, paddle sports, trail running, hiking and strength training.
For brick workouts and du/triathlon races, the auto multisport feature lets you switch sports with just one button press. 735XT is compatible with advanced workouts for running, cycling — and even pool swimming. Create your own custom workouts and download for free from Garmin Connect. Then review your past efforts on the app or share them with family and friends for added motivation.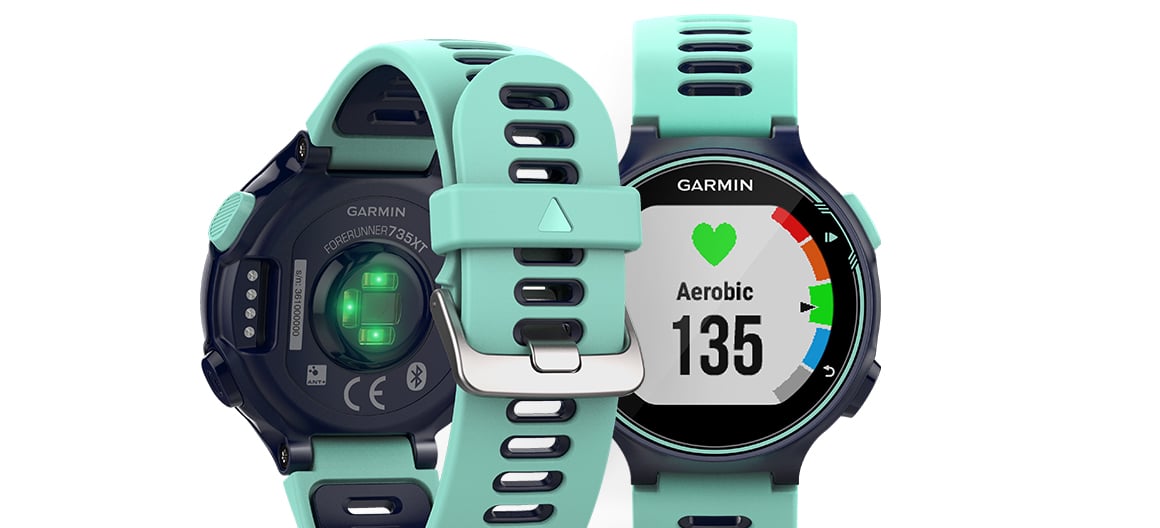 Wrist-based Heart Rate Monitors Your Ticker
Forerunner 735XT has built-in Elevate™ heart rate technology to measure heart rate at the wrist¹. That means you can run freer when it's time to toe the line. No need to wear a chest strap to see your heart rate zone and beats per minute in real time, displayed on a colorful gauge.
Train Your Heart Out
Wrist-based heart rate may suit your needs to a "T" on race day, but when it comes to training and recovery, you might want more dialed-in data. With Forerunner 735XT, you have options. Here are some of the advanced metrics you'll gain with the addition of a heart rate strap:
Running dynamics² such as ground contact time balance, stride length, vertical ratio and more
VO2 max estimate, lactate threshold, race predictor and recovery advisor
Underwater heart rate for swimming5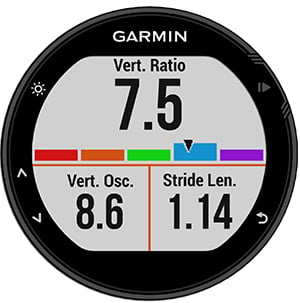 Prove It
With the integration of the Strava Live Suffer Score, you can get street cred for your sweat. Strava Suffer Score analyzes your heart rate during a workout and ranks your total activity effort. With the purchase of a 735XT you get a 60-day free trial to Strava Premium, so you can see your suffer score and use it to push yourself harder than ever. Your suffering has value, so use it.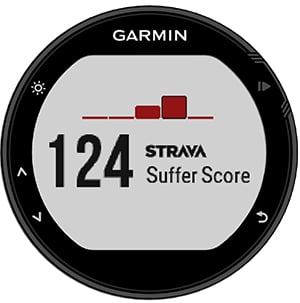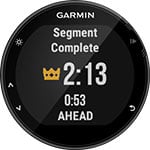 Raise the Bar for Every Ride and Run
Forerunner 735XT is the first running watch that's compatible with Strava Live Segments and includes a 2-month trial of Strava Premium. With this membership, your starred Strava running and cycling segments automatically sync with the 735XT for live feedback during your activity. Also get alerts for segment starts and finishes, view leaderboard rankings, and see how your current effort compares to your PR. Make every effort a personal challenge with Strava Live Segments.
Connect and Customize
Smart notifications4, automatic uploads4 to Garmin Connect and live tracking make 735XT the ultimate smartwatch for athletes. Keep your phone tucked away when you're on a long ride or run, and get all your notifications at the wrist so you can decide to respond or keep moving. Also, with Garmin Connect™ Mobile's ability to share your runs and workouts, cheerleading doesn't just take place at the sidelines anymore. Your friends and family can view and comment, no matter how far away they are. You can even customize your device with free watch faces, apps and data fields from Connect IQ to really make 735XT your watch.
LiveTrack
LiveTrack lets family and friends track your location in real-time while you're riding, and now it's even easier to use. When you enable auto-start, you can spend more time focusing on the ride and less on the technology. LiveTrack will automatically detect when you start riding, which means there's no need to even reach for your phone anymore. Auto-start is also compatible with the new Strava Beacon, which lets Strava Premium subscribers take advantage of the same great feature. It's never been easier for you and your loved ones to have peace of mind while you ride.
Save Your Sweat Equity
Get more from your miles at Garmin Connect, our free online community where you can save, plan and share activities. Beat yesterday by nailing a new PR — we'll keep track so you can view your victories all in one spot. Get digital insights6 tailored to your stats and habits, like cues to move and healthy tips. Connect with other users to challenge and compete. Available on your compatible mobile device.
A Few More Extras
Just like you, Forerunner 735XT goes hard, all day long. This watch becomes your partner in recovery with all-day activity tracking¹ that monitors steps, calories and sleep. It's also compatible with our line of Varia™ cycling awareness devices, including rearview radar, smart bike lights and Varia Vision™ in-sight display.
Wear Your Personality on Your Sleeve
Download the free Garmin Face It™ watch face app to customize your device with any photo from your smartphone. Just download the app, choose an image from your photo library, adjust the style for time and set it as your watch's face. Whether it's a scenic view from your last hike or a picture of your new puppy, with Garmin you can add personality to your watch that's uniquely you.

Customers who bought this product also purchased
Pingora Logo Tee

The most comfortable t-shirt you will ever own Have you been looking for a reason to buy a new shirt? Well look no further this super awesome rad Pingora Outdoors T-shirt which is gonna change your life! It is warm when you want it to be warm, cool when you want ...

Pingora Logo Long Sleeved Tee

The most comfortable long sleeved t-shirt you will ever own Loved the Pingora Logo Short Sleeved Tee, but own all of the colors already? We've got you covered! The long sleeved addition to the Pingora Brand is super comfy, stylish and different from our other shirts! Add it to your collection ...

Refuge Hammocks

Peregrine introduces the REFUGE series of hammocks.  These are built to be light, comfortable, and stronger than the competition.  Peregrine is the only brand providing CE certified climbing rated carabiners and woven Dyneema slings as attachments.  Super comfortable and strong nylon fabrics, triple stitched seams, and an integrated roll top ...
Outdoor 2.0

Outdoor 2.0 is the newest and most versatile Luci light yet. With more light settings, it's brighter than ever and longer lasting than the previous generation of Luci Outdoor. The new adjustable bottom strap lets you attach Luci anywhere without needing an extra hook. Just as lightweight, waterproof and durable as ...

Grigri 2 Belay Device

Designed for experienced climbers, the GRIGRI 2 belay device with assisted braking is designed to facilitate belay maneuvers. Both compact and lightweight, it is used with dynamic single 9.4 to 10.3 mm diameter ropes (possible with 8.9 mm to 11 mm diameters). The assisted braking improves belay comfort when working ...

Insulated Static V

The Klymit Insulated Static V is a lightweight camping pad using body mapping technology with all season warmth and comfort. It features the v-chamber design which limits air movement and heat loss while offering a uniquely ergonomic body map which is optimzed for performance and comfort. While inflating in approximately ...